-
Saved Stories - None
Russia's Immortal Regiment: From Grassroots To 'Quasi-Religious Cult' - RadioFreeEurope/RadioLiberty
Andrew McCabe: Acting FBI Director

Former deputy FBI Director Andrew McCabe was named acting director after James Comey was suddenly fired Tuesday. Fewer than 48 hours after taking over, McCabe testified in front of the Senate Intelligence Committee, asserting that Comey's firing by President Donald Trump has had no impact on an ongoing Russia investigation. McCabe, 49, had served as deputy director since February 2016 with Comey, where he has largely been focused on the Russia investigation as well as a probe into Clinton's use of a private email server for government business while she served as secretary of state. Justice Department officials have spoken with McCabe in recent days as they interview potential candidates to replace Comey, but it is not clear how seriously he is being considered for the position. NY, Washington field office Since he joined the FBI as a special agent in the New York field office in 1996, McCabe has held a number of positions including supervising the Washington field office. He also held leadership positions in counterterrorism and national security. During his time in Washington, McCabe was involved in the investigation into the 2013 Boston Marathon bombing and the arrest and interrogation of Ahmed Abu Khattala - a suspect in the attack on the U.S. embassy in Libya in 2012. In 2015, just before he was named deputy director of the agency, McCabe came under scrutiny when his wife accepted $500,000 for a failed state Senate campaign in Virginia from the political organization of Governor Terry McAuliffe, a close Clinton ally. The incident, and whether he should have recused himself, have come under scrutiny as the Department of Justice continues to probe the FBI's handling of Clinton's use of the private server. The FBI has said that McCabe consulted ethics officers when his wife first considered running for office on guidance to avoid potential conflicts of interest. McCabe graduated from Duke University and obtained a law degree from Washington University in St. Louis.


Trump Lawyers State He Had No Russian Income or Debt, With Few Exceptions

In a letter to the president, his lawyers say there was no debt owed to Russians, and two major payments from Russian sources over the last 10 years.
Trump Warns Fired FBI Chief About 'Leaking' To Press

U.S. President Donald Trump has issued a comment on Twitter apparently warning former FBI Director James Comey against "leaking to the press," suggesting there might be "tapes" of their private conversations.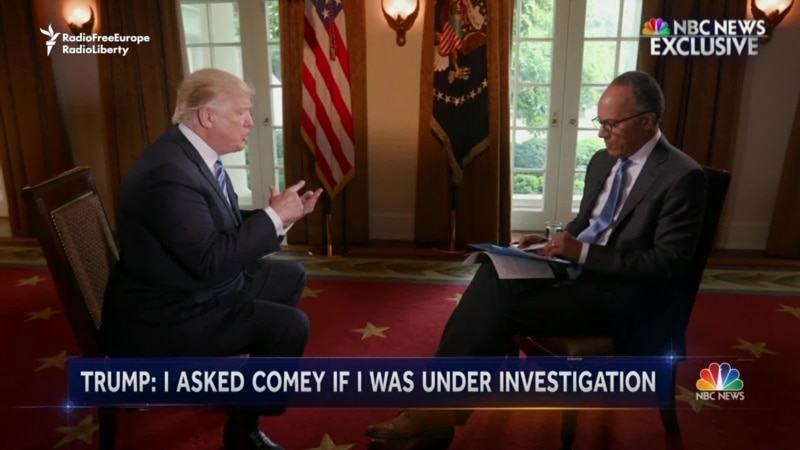 Roles, Duties of Attorney General, Assistant AG, FBI Director

Attorney General As the nations top law enforcement official, the U.S. attorney general oversees the enforcement of federal laws. The attorney general heads the Department of Justice (DOJ), which has evolved into the worlds largest law office since Congress created it in 1870. The DOJs mission is to enforce the law and defend the interests of the country, protect it from foreign and domestic threats, seek just punishment for wrongdoers, and to ensure fair and impartial administration of justice for all Americans. The DOJ oversees a staff of U.S. attorneys, also known as chief prosecutors, who represent the federal government in U.S. district court and the U.S. court of appeals. U.S. Attorneys are located throughout the U.S., including Guam, the Northern Mariana Islands, Puerto Rico, and the U.S. Virgin Islands. Deputy Attorney General The deputy attorney general is the second highest ranking official at the Department of Justice. The deputy attorney general manages the daily operation of the DOJ and may serve as acting attorney general in the absence of the attorney general or if he is forced to recuse himself in an investigation. The deputy attorney general heads the Office of the Assistant Attorney General (OAAG), which is responsible for the oversight of the Office of Justice Programs (OJP), which includes efforts designed to prevent juvenile delinquency and sex offenses. According to OJP, it provides innovative leadership to federal, state, local and tribal justice systems by distributing state of the art knowledge and practices across America. The deputy attorney general is appointed by the president with the consent of the Senate. The third highest ranking official in the DOJ is the associate attorney general, who assists the deputy attorney general in policies pertaining to civil justice, law enforcement and public safety. The associate attorney general also manages many offices within the DOJ, including Community Oriented Policing Services and the office of Violence Against Women. The associate attorney general is appointed by the president and confirmed by the Senate. FBI Director The director of the Federal Bureau of Investigation (FBI) manages the FBI, which describes itself as the principal investigative arm of the DOJ and a full member of the U.S. Intelligence Community. The director is appointed to a 10 year term by the president and confirmed by the Senate. The FBI says it is an intelligence-driven and threat-focused national security organization with both intelligence and law enforcement responsibilities. The agency says its investigative powers are the broadest of all federal law enforcement agencies, with the legal authority to investigate a broad array of cases ranging from domestic and international terrorism, to cyber crime, civil rights and white collar crime.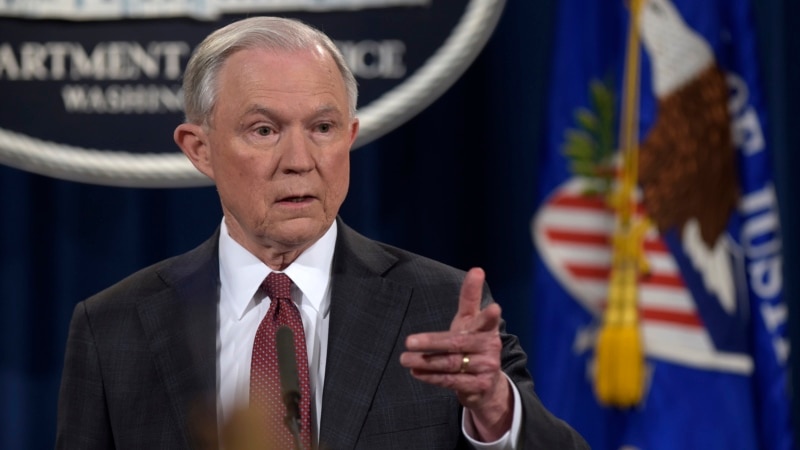 Kremlin Aide Threatens Retaliation If U.S. Doesn't Lift Restrictions On Diplomatic Compounds

A top Kremlin foreign-policy adviser has threatened retaliatory measures against U.S. officials in response to Washington's closure of Russian diplomatic property in the United States last year.


Владимир Путин принял участие в акции «Бессмертный полк»



В День Победы Владимир Путин с портретом своего отца-фронтовика принял участие в шествии «Бессмертного полка».

В рамках акции «Бессмертный полк» 9 мая в городах России и за рубежом люди выходят на марш с портретами своих родственников участников Великой Отечественной войны. Впервые акция состоялась в Томске в 2012 году.
Встреча с Президентом Палестины Махмудом Аббасом



Владимир Путин принял Президента Государства Палестина Махмуда Аббаса в резиденции Бочаров ручей в Сочи. Президент Палестины находится в России с рабочим визитом.

Перед началом переговоров Владимир Путин и Махмуд Аббас в режиме телемоста приняли участие в открытии Многофункционального культурно-спортивного комплекса в Вифлееме, построенного при содействии России.
Комплекс возведён в соответствии с поручением главы Российского государства и предан в качестве дара народу Палестины.














Trump suggests there may be tapes of his private conversations with former FBI director

President Trump suggested Friday that there may be tapes of his private conversations with FBI Director James B. Comey, whom he fired earlier this week, in an apparent attempt to warn Comey before he starts leaking to the press. James Comey better hope that there are no "tapes" of our conversations before he starts leaking []
Ушаков: Путин выступит в Пекине на церемонии открытия форума и проведет ряд встреч - ТАСС
Putin and Russia Continue to Play Games - Observer
How Trump Handed Putin a Big Fat Win - Vanity Fair



Vanity Fair




How Trump Handed Putin a Big Fat Win

Vanity Fair

In reality, Russia is shrinking. When the Soviet Union collapsed, in 1991, there were 149 million people living there. Today, there are 144 million. Until the death rate drops and the birth rate jumpsless H.I.V., less tuberculosis, less alcoholism ...
The Latest: UK's health service hit by ransomware attack - KOAM-TV
Russia's Immortal Regiment: From Grassroots To 'Quasi-Religious Cult' - RadioFreeEurope/RadioLiberty
СМИ: Трамп привезет на саммит НАТО делегацию из 1000 человек - Московский Комсомолец



СМИ: Трамп привезет на саммит НАТО делегацию из 1000 человек

Московский Комсомолец

На саммите НАТО в Брюсселе 25 мая президента США будет сопровождать делегация из почти тысячи человек. Об этом сообщила газета La Dernière Heure, ссылаясь на правительственные источники. По данным издания, Трам прибудет в столицу Бельгии 24 мая и сразу направится в ...and more »
В Черном море начались новые учения стран НАТО - АСН Украина
Trump threatens ex-FBI head Comey with possible 'tapes' of conversations theguardian.com/us-news/2017/m
---
Posted by
mikenov
on Friday, May 12th, 2017 3:05pm
A Look at the Candidates Trump Is Considering to Head the F.B.I.
---
Here are some of the choices being discussed inside the White House:
J. Michael Luttig
Mr. Luttig is a former Justice Department lawyer and federal appeals court judge who was appointed by President George Bush. Widely admired by conservatives, Mr. Luttig left the bench in 2006 to become general counsel of Boeing, a position he still holds.
Mr. Luttig would be a throwback pick. Judges were long selected to run the F.B.I. because they were seen as likely to keep agents within constitutional boundaries and were steeped in criminal law. But the F.B.I. mission has changed drastically since the Sept. 11 terrorist attacks, with the bureau now as much a part of the nation's intelligence apparatus as it is a law enforcement body.
Both Mr. Comey and his predecessor, Robert S. Mueller III, were former prosecutors with antiterrorism experience. Mr. Comey, in particular, came to office with broad national security and intelligence experience as a former deputy attorney general during the administration of President George W. Bush.
Senator John Cornyn
According to one senior White House aide, administration officials have discussed as a possibility
Mr. Cornyn
, who served as the Texas attorney general. He is one of several possible candidates who are current and former members of the House and Senate.
Representative Trey Gowdy
Mr. Gowdy
, the South Carolina Republican and a former federal prosecutor, oversaw the Benghazi special investigation in the House. Many F.B.I. agents saw that inquiry as a boondoggle and view Mr. Gowdy as highly partisan.
Mike Rogers
Mr. Rogers is the former chairman of the powerful House Intelligence Committee, who represented Michigan and once served as an agent in the bureau. Respected among agents who felt he was a straight shooter, he probably has the credibility to steer the F.B.I. out of a hurricane of bad publicity.
Raymond W. Kelly
Mr. Trump and his advisers have asked some people whether they believe Mr. Kelly, the former New York police commissioner, would be "loyal," language similar to what he used in questioning Mr. Comey's effectiveness, according to people briefed on the discussions. In Mr. Kelly's case, those briefed said, the White House appeared to be trying to assess whether Mr. Kelly would seek to advance his own image, as Mr. Trump accused Mr. Comey of doing.
Reached by phone, Mr. Kelly declined to comment on whether he had spoken with the president about the job. But Mr. Kelly is said to be seen as outside the top tier of candidates because the job is a 10-year appointment and at 75, he is older than many of the other prospects.
As police commissioner, he also had a combative relationship with the F.B.I., with the two agencies frequently engaged in turf wars. He was widely disliked among agents who felt he constantly worked to undermine the F.B.I., creating a legacy of mistrust.
Other possibilities
Kelly Ayotte,
the former New Hampshire attorney general who lost her seat in the United States Senate last year, has been pushed by some of her Senate colleagues and some Republican advisers to the White House who believe that she would easily be confirmed.
But Mr. Trump has remained leery of Ms. Ayotte, who publicly broke with him during his presidential campaign and criticized him, according to people close to the White House.
One other woman has been discussed:
Alice Fisher
, a white-collar criminal lawyer in Washington who ran the criminal division of the Justice Department during the second half of the George W. Bush administration.
George Terwilliger
, who helped lead the George W. Bush campaign's recount efforts in 2000 and served for a time as deputy attorney general under Mr. Bush's father, is another name being batted about.
Mr. Trump could also do something no president has:
Elevate a senior F.B.I. official
to be the next director. That would be seen as an olive branch to the bureau and would help avoid allegations that Mr. Trump was selecting a political loyalist.
Aides to the president did not immediately respond to a request for comment.
Chief among the White House's concerns is that the Senate confirmation process go smoothly, which requires selecting and vetting a nominee who is acceptable to both Republicans and Democrats. Mr. Trump and his son-in-law and senior adviser, Jared Kushner, have made calls to people outside the White House asking their opinions of different candidates.
Continue reading the main story
AP Top News at 12:18 p.m. EDT: Trump warns Comey: Better hope there are no 'tapes' of talks
AP Top News at 12:18 p.m. EDT
AP Top News at 1:26 p.m. EDT: As Trump seeks billions for wall, US still paying for fence

HOUSTON (AP) -- Before the wall, there was the fence. And the U.S. is still paying for it....


AP Top News at 1:26 p.m. EDT
NYT > World: Cyberattack in U.K. Hits 16 Health Institutions

A National Health Service sign outside a hospital in central London. A spokesman for the service said that 16 organizations, including hospitals and other kinds of clinician services, had been hit by a cyberattack on Friday.


NYT > World
NYT > Home Page: A Look at the Candidates Trump Is Considering to Head the F.B.I.

Among the choices being discussed at the White House are J. Michael Luttig, a former judge; Senator John Cornyn, the No. 2 Republican; and Representative Trey Gowdy, officials said.


NYT > Home Page
Trump - Google News: A Look at the Candidates Trump Is Considering to Head the FBI - New York Times
Trump - Google News
World - Google News: Putin issues new cyber strategy to regulate Russian internet; online media and anonymity targeted - Washington Times
World - Google News
Reuters: World News: Way forward for Libya uncertain despite 'breakthrough' meeting

TUNIS (Reuters) - Libyan military commander Khalifa Haftar, a figurehead in the east of the country, and Fayez Seraj, the head of a U.N.-backed government in Tripoli, appeared at ease as they broke more than a year of deadlock between them at talks in Abu Dhabi last week.
Reuters: World News
Shared NewsLinks Review