Governments and executives scrambled to recover from a cyberattack that wreaked havoc on computer systems around the world, as the list of victims grew to include Germany's main rail operator and a swath of the Russian banking system.
Russia - Google News: Investigators seek former Trump adviser's bank records as Russian probe widens - Fox News
Russia - Google News
Russia and US Presidential Elections of 2016 - Google News: Investigators seek former Trump adviser's bank records as Russian probe widens - Fox News
Russia and US Presidential Elections of 2016 - Google News
Voice of America: Fact Check: This News Is Not Real

A roundup of some of the most popular, but completely untrue, headlines of the week. None of these stories are legit, even though they were shared widely on social media. AP checked these out; here are the real facts: NOT REAL: U.S. Department of State suspends New York Times license THE FACTS: The account claiming the State Department suspended the newspapers operational permit after it criticized Philippine President Rodrigo Duterte is completely false, Times spokeswoman Danielle Rhoades Ha says. There is no permit required for U.S. news organizations and there is no issue with the newspapers foreign press credentials, she said. A website made up to look like a CNN outlet says in a story published last month that the State Department accused The Times of breaking communication code of ethics in a matter that could cause diplomatic challenges between the two countries. NOT REAL: Sarah Palin out of her coma, able to identify her attackers THE FACTS: More than half a dozen sites have run the same verbatim account of a hit-and-run accident on Californias Pacific Coast Highway involving the former Alaska governor, followed up by stories alleging Palin emerged from her coma to identify her assailants. A spokesman for Palin tells the AP the reports are as fake as fake can be. The sites report that the accident happened April 28, when Palins Twitter and Facebook accounts were active. The 2008 Republican vice presidential candidate has been a target of hoax articles in the past. NOT REAL: Hobby Lobby just announced plan to close ALL stores THE FACTS: The arts and crafts retail chain has 700-plus stores and says its adding 60 more in 2017. A story published by Daily Info News, The Washington Feed and other outlets said the chains CEO said it could go out of business if it pays fines for violating a mandate under the Affordable Care Act to provide employees access to emergency contraception. Hobby Lobby won an exemption from the law based on religious preferences in a 2014 Supreme Court decision. NOT REAL: 2 moms, 5 kids killed in car crash in (insert place here) THE FACTS: Multiple websites have appropriated many details from a true account of a June 2016 minivan accident in Southern California that killed two mothers and four children while two fathers survived. The stories circulating with dozens of different headlines change the U.S. county where it occurred, and in some cases add the fathers names and varying ages of the children. NOT REAL: Robertson: David Bowie is not dead, he was kidnapped by demons summoned by rock music THE FACTS: This account first published by politicops.com last year and recently recycled by admitted hoax site uspoln.com began with an accurate answer by 700 Club host Pat Robertson to a teenagers written question on whether it was OK to listen to rock music. Robertson replied that some rock wasnt all that bad, but some is just evil. A spokesman for Robertsons Christian Broadcasting Network tells the AP that the evangelist made no mention of Bowie, who died Jan. 10, 2016.


Voice of America
В мире Новости Google: Трамп заявил о необъективности освещения встреч с Лавровым и Климкиным - Московский Комсомолец
В мире Новости Google
Ukraine - Google News: Eurovision 2017: LGBT activists describe anti-gay violence in Ukraine - Metro
Ukraine - Google News
Voice of America: Russian-owned Companies Settle US Money-laundering Case

A Russian-owned group of companies has agreed to pay nearly $6 million to settle U.S. civil allegations that the firms laundered proceeds of a $230 million tax fraud, ending a politically charged case days before it was set to go to trial. Federal prosecutors in New York announced late Friday the surprise settlement between the U.S. government and Russian businessman Denis Katsyv, the owner of Prevezon Holdings, as both sides were preparing to bring the three-year case to trial next week. We will not allow the U.S. financial system to be used to launder the proceeds of crimes committed anywhere, here in the U.S., in Russia, or anywhere else, Acting Manhattan U.S. Attorney Joon H. Kim said in a statement. But Katsyvs attorney, Faith Gay of Quinn Emanuel Urquhart & Sullivan LLP, described the outcome as a striking defeat for the government. Its almost an admission that they shouldnt have brought the case, she said. The settlement is the amount it would have cost to try the case. No admission of wrongdoing U.S. authorities had sought to seize more than $20 million in Manhattan condos and bank accounts from Prevezon and related companies prosecutors had claimed were used to launder money stolen by corrupt Russian tax officials. Under the settlement, none of the companies admitted wrongdoing. The settlement brings an end to a case that raised many of the elements of distrust between Moscow and Washington, such as economic sanctions and allegations of political corruption. U.S. authorities said the elaborate tax fraud and money laundering allegations were first uncovered by Sergei Magnitsky, Russian accountant for investment firm Hermitage Capital. Whistleblower jailed, died After accusing Russian officials of the $230 million tax fraud, he was arrested on tax evasion charges and died in prison a year later, prosecutors said. The Kremlins human rights council found that Magnitsky likely died from a beating delivered by guards and medical neglect. Russian authorities have said Magnitsky death was caused by heart failure, not foul play. In 2012, at the urging of Magnitskys former employer, Hermitage Capital CEO William Browder, Washington passed a law freezing any U.S. assets of Russian investigators and prosecutors said to have been involved in the accountants detention. In retaliation, Moscow barred Americans from adopting Russian children. In the settlement agreement, prosecutors stated that none of the defendants had a role in the death of Magnitsky. Katsyvs attorney Gay said the current controversy over allegations of Russian meddling in U.S. elections had likely motivated both sides to settle before trial. Its such a heated political environment right now, she said. Im sure that was a factor.


Voice of America
RSS: Исследовательское судно Балтийского флота «Адмирал Владимирский» вышло в Индийский океан

Его экипаж обследует вновь обнаруженные отличительные глубины и навигационные опасности, составит характеристики районов плавания, проведет маршрутный промер и сбор сведений для корректуры карт на всем протяжении похода.


RSS
Radio Free Europe / Radio Liberty: Russian-Owned Prevezon Pays $6 Million Settlement In Magnitsky-Linked Case

A Russian-owned group of companies has agreed to pay the U.S. government a settlement of $6 million in an alleged money-laundering and Russian tax fraud case -- bringing an end to the politically charged case just days before it was set to go to trial.


Radio Free Europe / Radio Liberty
В мире Новости Google: Компания сына вице-президента РЖД договорилась с властями США без суда - РБК
В мире Новости Google
Voice of America: Johnson: Russian Hacking of British Election Realistic Possibility

There is a realistic possibility Russia might try to interfere in Britains national election next month, Boris Johnson, Britains foreign secretary, said. In an interview with The Telegraph newspaper published Saturday, the Conservative politician also said Russian President Vladimir Putin would rejoice if Jeremy Corbyns Labor Party won the June 8 election. Referring to Putin, Johnson said: Clearly we think that is what he did in America, its blatantly obvious thats what he did in France [where incoming president Emmanuel Macrons emails were hacked], in the western Balkans he is up to all sorts of sordid enterprises, so we have to be vigilant. He said Putin wanted to undermine faith in democracy altogether and to discredit the whole democratic process. On Friday, Britains health system was subjected to a major cyber attack. Johnson also told The Telegraph that rather than Britain having to pay a divorce bill for leaving the European Union, the EU could end up having to pay Britain because it had contributed to so many EU assets. They are going to try to bleed this country white with their bill, he said. Earlier this month, the Financial Times reported the EU might seek an upfront payment in 2019 of up to 100 billion euros ($109 billion). That sum was immediately rejected by British ministers.


Voice of America
Russia international behavior - Google News: Hinting at secret tapes, Trump warns ousted FBI director - Sandusky Register
Russia international behavior - Google News
SvobodaRadio's YouTube Videos: Выпуск видеоновостей Радио Свобода
---
Выпуск видеоновостей Радио Свобода
SvobodaRadio's YouTube Videos
Voice of America: Assailants Gun Down at Least 10 in Pakistan

Unknown gunmen shot dead at least 10 construction workers and wounded several others Saturday in southwestern Pakistan, police said. The victims were building a road in the port city of Gwadar when assailants on motorbikes fired at them and fled the scene. There was no immediate claim of responsibility for the violence. Suicide bombing The attack happened a day after an Islamic State suicide bomber killed at least 25 people and wounded 40 others in the province of Baluchistan where Gwadar is located. That attack, in the town of Mastung, was targeted at Abdul Ghafoor Haideri, deputy chairman of the Pakistani Senate, the upper house of parliament. Islamic State claimed responsibility for the attack on its global media outlet, Amaq News Agency. The senator was slightly wounded, but his driver and the director of staff at the Senate accompanying him were among those killed. Haideri is a central leader of JUI-F, which is part of Pakistans ruling coalition headed by Prime Minister Nawaz Sharifs party. Stepped up attacks IS has stepped up attacks in Pakistan. The Syria-based terrorist group also took credit for the deadliest suicide bombing this year of a Sufi shrine in the southern city of Sehwan in February that killed more than 70 people. Victims were mostly members of the minority Shiite Muslim community. Baluchistan is the largest of Pakistans four provinces where a number of militant groups operate. The province borders Afghanistan and Iran, and officials in both the countries have long alleged militants waging terrorist attacks on their soils operate out of the Pakistani province. Islamabad denies the charges. Baluchistan is at the center of the China-Pakistan Economic Corridor, commonly referred to as by its acronym of CPEC. It is a combination of road networks, railway lines and power projects being built in Pakistan with Chinese investment of more than $50 billion.


Voice of America
RSS: В Севастополе отмечают 234-ю годовщину основания Черноморского флота

У памятника императрице Екатерине II прошел митинг, в котором приняли участие командующий ЧФ адмирал Александр Витко, члены Военного совета флота, руководство Крыма и Севастополя, представители общественных организаций.


RSS
Radio Free Europe / Radio Liberty: Protests Against 'Dictatorship' In Serbia

Around a hundred people marched on the streets of central Belgrade on May 12 in a protest against what they call the "dictatorship" of Prime Minister Aleksandar Vucic, who has been elected as the country's new president. Protesters chanted, blew whistles, beat drums, and held signs saying "The elite rejoices, while the people are starving," and "Down with the dictatorship." Vucic won a decisive 55 percent of the votes in the April 2 presidential election,...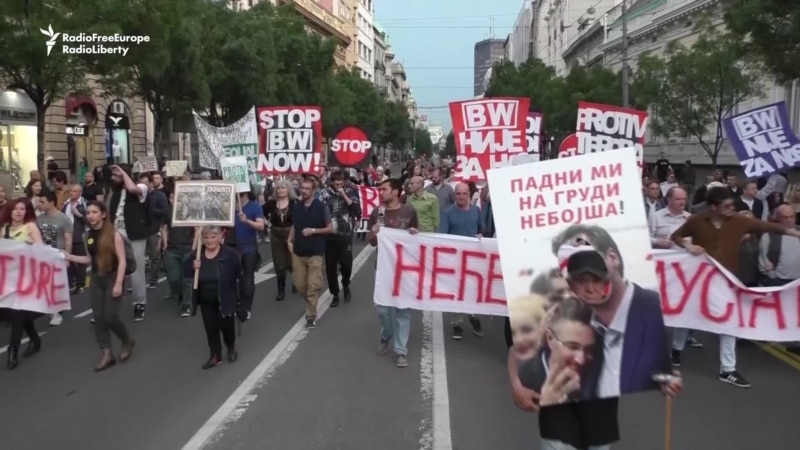 Radio Free Europe / Radio Liberty
russia ukraine - Google News: Russia, douze points: here's why Ukraine was wrong to ban Russia's Eurovision entry - iNews
russia ukraine - Google News
Voice of America: West Bank Vote Highlights Palestinian Split

Palestinians in the occupied West Bank are holding municipal elections for representatives on dozens of councils. Voting Saturday, however, is not taking place in the Gaza Strip. The elections are widely seen as a popularity test for President Mahmoud Abbas' Fatah party. The Palestinian militant group Hamas, which controls the Gaza Strip, remains deeply split from its more moderate political rival, Fatah, and its leader Abbas, who heads the Palestinian Authority. The rivals are blaming each other for the election not being held in Gaza. "The elections are happening without national consensus," said Hamas spokesman Fawzi Barhoun. "Holding them in the West Bank alone, without Gaza, will cement division." Fatah Deputy Chief Mahmoud al-Aloul said about the political schism that "Unfortunately this joy is taking place in the West Bank alone because Hamas is preventing the people from practicing this right in Gaza." The rival Palestinian governments have been at loggerheads since a civil war in 2007 when Hamas expelled the Palestinian Authority from Gaza. Hamas also has poor relations with neighboring Egypt because Cairo believes armed militants in Gaza are assisting a deadly Islamic State insurgency in the Sinai Peninsula. Hamas is considered a terrorist group by Israel and much of the West despite recent attempts by the movement to soften its image.


Voice of America
Window on Eurasia -- New Series: Trump is Again OURS, Moscow Commentators Say
Paul Goble
Staunton, May 13 There has been yet another mood swing in Moscow about Donald Trump. After his election, Russian officials and commentators celebrated that event as a breakthrough for Russia. Then, after he came to office and took positions, Moscow didnt like, many Russians dismissed him as a remake of Barack Obama as far as their country is concerned.
But now in the wake of Donald Trumps firing of the FBI director and his meeting with Russian Foreign Minister Sergey Lavrov, Russians again are expressing confidence that the US president will pursue policies they like and are declaring openly that Trump is again OURS. Hurrah! (
sntdpni.livejournal.com/450550.html
).
Karen Shakhnazarov, for example, said on Moscows First Channel Thursday evening that Trump is Russias revenge for Gorbachev: He will divide the US and end up in Miami instead of Foros. Then, he continued, we will rule the world. Russians just have to wait because Trump is again ours! (
facebook.com/ruben.mehrabyan/posts/10155419896154040
).
Such remarks, coming after more than two months of largely critical Russian commentary suggest that they, like the ones expressed earlier, are not so deeply held that they wont change again on a dime (or perhaps kopeck) if once again the US president does something Moscow doesnt like.
But at the same time, they underscore Moscows hopes that it now has an opposite number in Washington who will not be constrained as were his predecessors by Russian actions at home like violations of human rights or abroad like the invasions of Georgia or Ukraine but who instead will want above all to make a big deal and that Moscow can exploit that desire.
Window on Eurasia -- New Series
Voice of America: Europol Working on Probe Into Massive Cyberattack

The European Union's police agency, Europol, says it is working with countries hit by the global ransomware cyberattack to rein in the threat and help victims. In a statement Saturday, Europol's European Cybercrime Center, known as EC3, said the attack is at an unprecedented level and will require a complex international investigation to identify the culprits. EC3 says its Joint Cybercrime Action Taskforce, made up of experts in high-tech crime, is specially designed to assist in such investigations and will play an important role in supporting the investigation. The attack, which locked up computers and held users' files for ransom, was believed the biggest of its kind ever recorded. Britain's National Cyber Security Center says teams are working round the clock to restore hospital computer systems that forced hospitals to cancel and delay treatment for patients. British Home Secretary Amber Rudd said Saturday that 45 public health organizations were hit, but she stressed that no patient data had been stolen. Germany's national railway says that departure and arrival display screens at its stations were hit Friday night by the attack. The company said it deployed extra staff to busy stations to provide customer information, and recommended that passengers check its website or app for information on their connections. The railway said that there was no impact on actual train services. Several cybersecurity firms said they had identified the malicious software behind the attack, which has apparently hit Russia the hardest.


Voice of America
Voice of America: Russia Seeks Investment, Trade Links on Chinas New Silk Road

Russias President Vladimir Putin is heading to China Sunday to join leaders of 27 other nations at the One Belt, One Road (OBOR) summit in Beijing. The massive China-led project aims to revive the ancient Silk Road and maritime trade routes by expanding investment in infrastructure linking Asia, Africa and Europe. While China plans to invest tens of billions of dollars in the ambitious vision, few details have been made clear on how the project will proceed. Russia wants investment A lack of specifics and long-term prospects for the project has led some observers to conclude Chinas new Silk Road so far is about politics and symbolism. But analysts in Moscow say Russia is mainly in it for the money. First, Russias economy desires foreign investments and it hopes to get some funds through OBOR, said Petr Topychkanov of the Carnegie Moscow Center. Second, Russia wants to bring new drive to the dying Eurasian Economic Union by connecting it with OBOR. Third, Russia wants to compensate the vanished economic agenda of the SCO (Shanghai Cooperation Organization) with the Chinese-led OBOR. Fourth, Russia wants to make European countries more nervous with the prospects of Russian-Chinese economic cooperation. China in the last few years has invested more than $300 billion in projects in One Belt, One Road countries, and Chinese officials say more than 50 agreements will be signed at next weeks meetings in Beijing. Leaders attending the summit include the other two founding members of the struggling Russia-led Eurasian Economic Union (EAEU), Belarus and Kazakhstan. Russian interest in the OBOR project in general is attracting additional Chinese investment into the Russian infrastructure and industry sectors, said Vasily Kashin, a senior research fellow at the Center for Comprehensive European and International Studies at Moscows Higher School of Economics. Russia is also trying to achieve a high level of coordination between the Chinese OBOR policy and the Russian policy concerning the Eurasian Economic Union. Russia established the EAEU in 2015 with the aim of integrating economies of former Soviet states. However, critics say the Kremlin uses the group for geopolitics and influence, and other members have shown little interest in deepening economic ties. Russia looking east? Western sanctions against Russia over its military involvement in Ukraine have led some Russian officials and analysts to say Moscow will pivot to the east for its political and economic future. China did provide significant loans for the Russian state-owned companies currently under the Western sanctions, helping them a lot, Kashin said. Russia-China trade is recovering from a 2014-2015 slump and was up 26 percent in the first quarter of 2017, to nearly $25 billion. Chinas exports to Russia rose 22 percent while Chinas imports from Russia were up 30 percent in the first four months of this year. China is Russias most important individual trading partner. Its share is growing, and it is already a significant source of investment, loans and technology. However, it will take China a long time to overtake the EU in these roles, Kashin added. There has been no dramatic pivot by Russia away from the West and toward the East, but there is a gradual trend for trade in that direction. The share of the APEC countries, not just China, but Japan and Korea as well, in Russian trade has been growing at the expense of the EU for a long time, Kashin said. The process did speed up after the beginning of the Ukrainian crisis, but not dramatically. Turn to the East is inevitable since the European market for Russian commodities will likely have long-term negative growth, because of EU economic stagnation and industrial decline. However, building the necessary infrastructure and negotiating the trade deals with the Asian countries will take Russia years, economic researcher Kashin added. The historical dependence on the single European market will be overcome, probably at some point in the late 2020s to early 2030s. Developing relationship Russia-China relations are developing steadily but are sometimes exaggerated by Russian officials for propaganda purposes. The leaders of Russia and China came to a point where they clearly realized the possibilities and limits of bilateral relations, Topychkanov said. Despite comments from some experts about the possibility of any kind of union between Russia and China let it be political, economic, or military there is no chance for such a union. Even the bilateral trust between both countries isnt limitless, the Carnegie associate added. In short, Russia and China value the visibility of friendship between them, but they cant transform it in deep-rooted strategic relationships and long-term, mutually beneficial economic cooperation. Chinas New Silk Road initiative has attracted more interest as the United States under President Donald Trump has looked inward and pulled out of global trade deals. But Russia does not see OBOR as a future substitute or even competitor for trade pacts like the formerly U.S.-led Trans-Pacific Partnership. I doubt, that Russian officials think about OBOR and Russia in the context of global trade, Topychkanov said. For Moscow this remains to be the issue of both bilateral cooperation with China and regional economic networks. Olga Pavlova contributed to this report.


Voice of America
News's YouTube Videos: Clapper: Comey uneasy about dinner with Trump
From:
News
Duration:
03:09
---
Former Director of National Intelligence James Clapper says he never ruled out evidence of collusion between Trump associates and Russia during the campaign. CNN's Jim Sciutto reports
News's YouTube Videos
Hourly News Summary: NPR News: 05-13-2017 8AM ET

NPR News: 05-13-2017 8AM ET




Download audio: https://play.podtrac.com/npr-500005/npr.mc.tritondigital.com/NPR_500005/media/anon.npr-mp3/npr/newscasts/2017/05/13/newscast080629.mp3?orgId=1&d=300&p=500005&story=528248528&t=podcast&e=528248528&ft=pod&f=500005


Hourly News Summary
Hourly News Summary: NPR News: 05-13-2017 7AM ET

NPR News: 05-13-2017 7AM ET




Download audio: https://play.podtrac.com/npr-500005/npr.mc.tritondigital.com/NPR_500005/media/anon.npr-mp3/npr/newscasts/2017/05/13/newscast070627.mp3?orgId=1&d=300&p=500005&story=528245054&t=podcast&e=528245054&ft=pod&f=500005


Hourly News Summary
West Bank Vote Highlights Palestinian Split - Voice of America
U.K. Health Service, Targeted in Cyberattack, Ignored Warnings for Months

An ambulance in London on Friday. Hospitals across Britain canceled surgeries and turned away patients after the National Health Service was hit by a large-scale ransomware attack.


-
Shared NewsLinks Review
-
Next Page of Stories
Loading...
Page 2
Next Page of Stories
Loading...
Page 3
Among a string of tweets sent out early Friday morning, President Donald Trump threatened to stop daily White House press briefings. The tweet followed this one: The White House Correspondents' Association was quick to respond, condemning the proposal and stressing the importance of press briefings. "White House briefings and press conferences provide substantive and symbolic opportunities for journalists to pose questions to...
-